01.10.2016 | Ausgabe 5/2016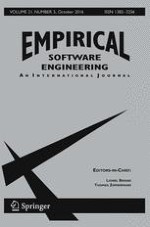 Prompter
Turning the IDE into a self-confident programming assistant
Zeitschrift:
Autoren:

Luca Ponzanelli, Gabriele Bavota, Massimiliano Di Penta, Rocco Oliveto, Michele Lanza
Wichtige Hinweise
Communicated by: Sung Kim and Martin Pinzger
Abstract
Developers often require knowledge beyond the one they possess, which boils down to asking co-workers for help or consulting additional sources of information, such as Application Programming Interfaces (API) documentation, forums, and Q&A websites. However, it requires time and energy to formulate one's problem, peruse and process the results. We propose a novel approach that, given a context in the Integrated Development Environment (IDE), automatically retrieves pertinent discussions from Stack Overflow, evaluates their relevance using a multi-faceted ranking model, and, if a given confidence threshold is surpassed, notifies the developer. We have implemented our approach in
Prompter
, an Eclipse plug-in.
Prompter
was evaluated in two empirical studies. The first study was aimed at evaluating
Prompter
's ranking model and involved 33 participants. The second study was conducted with 12 participants and aimed at evaluating
Prompter
's usefulness when supporting developers during development and maintenance tasks. Since
Prompter
uses "volatile information" crawled from the web, we also replicated
Study I
after one year to assess the impact of such a "volatility" on recommenders like
Prompter
. Our results indicate that (i)
Prompter
recommendations were positively evaluated in 74 % of the cases on average, (ii)
Prompter
significantly helps developers to improve the correctness of their tasks by 24 % on average, but also (iii) 78 % of the provided recommendations are "volatile" and can change at one year of distance. While
Prompter
revealed to be effective, our studies also point out issues when building recommenders based on information available on online forums.