01.06.2011 | Ausgabe 2/2011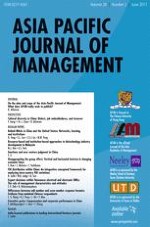 Resource-based and institution-based approaches to biotechnology industry development in Malaysia
Zeitschrift:
Autoren:

Mark J. Ahn, Anne S. York
Wichtige Hinweise
The authors would like to gratefully acknowledge Editor-in-Chief Mike Peng and the anonymous reviewers for their excellent guidance and encouragement. We would also like to thank the Malaysian Biotech Corporation, Bionexus, and the Malaysian Life Sciences Fund for their generous support of this research study, as well as the participants who provided their insights. We are thankful for the efforts of our research assistants, Rebecca Bednarek and Melvyn Loh; and grateful to Rob Wiltbank and Stephen Cummings for their helpful feedback on earlier versions. All views and errors are ours.
Abstract
In this study, we use both resource-based and institution-based theories to examine potential sources of competitive advantage in the relatively new and rapidly growing biotechnology sector. We then use those theories as the basis for a multimethod study to assess the priorities, capabilities, and competitiveness of the emerging biotechnology industry in Malaysia. Multifunctional experts from a biotechnology industry organization in Malaysia identified the use of biotechnology for agriculture and biofuels as key country priorities, with access to funding and talent cited as key capabilities required for successful sector development. The gap between capabilities required and strategic priorities provides a "to do" list for industry development, with government institutions playing a central role in accelerating technology development and providing the capital flows necessary to bridge this gap. Implications include the need for public–private sector collaboration to enable biotech firms to efficiently obtain international investment and alliances to ensure sustainability, as well as to develop bold and creative approaches for developing and recruiting talent both at home and abroad.