14.09.2017 | Ausgabe 11/2017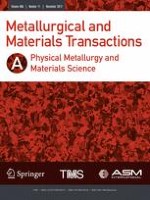 Stress-Relaxation Behavior of Magnesium-3Gadolinium-2Calcium-Based Alloys at Elevated Temperatures
Zeitschrift:
Autoren:

Ning Mo, Qiyang Tan, Bin Jiang, Fusheng Pan, Ming-Xing Zhang
Wichtige Hinweise
Manuscript submitted January 29, 2017.
Abstract
Based on previously published work on binary Mg alloys by Abaspour
et al
. and on the magnesium (Mg)-6gadolinium (Gd)-2zinc (Zn)-0.6zirconium (Zr) (wt pct) alloy reported by Nie
et al.
, a number of new lower-cost Mg-3Gd-2calcium (Ca) (wt pct)-based creep-resistant magnesium alloys were developed by replacing part of the Gd with Ca. After solution treatment at 793 K (520 °C), the Ca-containing alloys exhibited an increased strength and a reduced stress relaxation at 453 K (180 °C) compared with the Mg-6Gd-2Zn-0.6Zr (wt pct) alloy. This work indicates that the replacement of Gd with Ca is a promising approach to develop lower-cost Mg alloys with an improved creep resistance. The results support the hypothesis that the short-range order of solutes governs the creep behavior of magnesium alloys.