01.03.2015 | Ausgabe 1/2015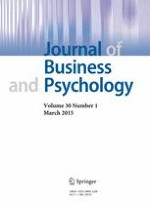 The Effects of Unconsciously Derived Affect on Task Satisfaction and Performance
Zeitschrift:
Autoren:

Xiaoxiao Hu, Seth Kaplan
Abstract
Purpose
Theoretical and empirical evidence from basic psychological research suggests that much of affective processing occurs outside of conscious awareness and that this unconscious processing can have profound impacts on attitudes and behaviors. However, research in the management domain examining unconscious affective processing is almost completely absent. To address this void, we examined the role of unconsciously derived affect in work-related judgments and behaviors.
Design/Methodology/Approach
In two studies, participants were primed with subliminal affective cues while performing work-related tasks.
Findings
Across the two studies, the results showed that positively valenced stimuli impacted reports of task satisfaction and performance on some, but not all, types of tasks. The effects of this unconsciously derived affect generally remained even when participants were explicitly told that they would be exposed to these primes.
Implications
This study demonstrates the potential importance of unconsciously derived affect for work-related outcomes. The results provide initial evidence that affect that emerges through sources outside of conscious awareness can impact individuals' feelings about, and performance on, work-related tasks. This finding may help leaders and employees to make the work environment more conducive to serving employee and organizational objectives.
Originality/Value
This is an initial examination of the effects of unconsciously derived affect on reactions to, and performance on, work-relevant tasks.