19.06.2019 | Polymers & biopolymers | Ausgabe 19/2019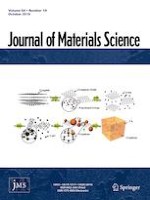 Affinity and distribution of silver nanoparticles within plasma polymer matrices
Zeitschrift:
Autoren:

A. Mansour, F. Poncin-Epaillard, D. Debarnot
Wichtige Hinweise
Publisher's Note
Springer Nature remains neutral with regard to jurisdictional claims in published maps and institutional affiliations.
Abstract
The affinity and repartition of silver nanoparticles in different plasma polymer matrices are studied according to the polymer functional groups. The polymer layers are synthesized by plasma polymerization of allyl alcohol (AAl), aniline (ANI), or heptadecafluoro-1-decene (HDFD). The matrix is then impregnated in a metallic salt solution and a reducing one. When plasma-polymerized (pp) ANI is used as matrix, a higher amount of silver nanoparticles (AgNPs) is introduced compared to the other two polymer matrices. Otherwise, with pp-AAl, smaller AgNPs with narrower size distribution are inserted. Finally, different plasma polymer/AgNPs interaction mechanisms are proposed according to the polymer functional groups. Moreover, the sensing behavior of pp-ANI, well known as sensitive layer toward ammonia, is markedly enhanced by the presence of AgNPs.