27.06.2019 | Polymers & biopolymers | Ausgabe 19/2019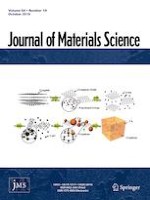 Conductive polyelectrolyte multilayers PANI membranes synthesis for tunable filtration ranges
Zeitschrift:
Autoren:

Izzati Izni Yusoff, Rosiah Rohani, Law Yong Ng, Abdul Wahab Mohammad
Wichtige Hinweise
Publisher's Note
Springer Nature remains neutral with regard to jurisdictional claims in published maps and institutional affiliations.
Abstract
Polyaniline membrane tends to swell and brittle when it undergoes excessive acid doping upon increasing its conductivity and hydrophilicity properties. Therefore, modification was done by introducing polyelectrolyte layers on polyaniline membrane surface with the aim to produce nanofiltration range membrane. Modification of PANI membrane with layer-by-layer polyelectrolyte is a new method for modifying PANI membrane; thus, the effect of doping time with number of polyelectrolyte bilayers with the membrane properties was investigated. From the results, the optimum doping time was 120 min to maximally increase the membrane's hydrophilicity and conductivity. Next, introduction of polyelectrolyte layers on the membranes' surface via layer-by-layer coating has found to decrease the porosity of the membranes top layer up to 10 times from ultrafiltration to nanofiltration ranges. Their surface hydrophilicity and negativity has also increased significantly while having a similar conductivity increment trend upon measured in wet condition (similar to water filtration condition). Furthermore, the permeability of the modified PANI membranes before and after back-flushing was performed for membranes cleaning process was seen to have no significant difference. Thus, it can be concluded that the presence of polyelectrolyte multilayers on the membrane surface has successfully formed a stable nano-range membrane with the same desired permeability even after back-flushing.