01.12.2009 | Ausgabe 4/2009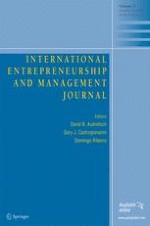 Cultural norms & business start-ups: the impact of national values on opportunity and necessity entrepreneurs
Autoren:

Diana M. Hechavarria, Paul D. Reynolds
Abstract
It has long been known that the level of entrepreneurship, indicated as the percentage of incorporated and unincorporated nascent businesses relative to the labor force differs strongly across countries. This variance is related to differences in levels of economic development (Wennekers et al.
2005
), but also to diverging demographic, cultural, and institutional characteristics (Acs and Armington
2004
; Busenitiz et al.
2000
; Fusari
1996
; Karlsson and Duhlberg
2003
; Rocha
2004
; Thurik et al.
2006
; Wong et al.
2005
). Incorporating an institutional perspective, the aim of this research is to test if culture, operationalized through the World Values Survey (WVS) data, is a significant factor in predicting opportunity and necessity entrepreneurship rates at the country level. Opportunity and necessity entrepreneurship rates will be averaged from the 2001 to 2003 Global Entrepreneurship Monitor (GEM) and aggregated for 38 countries in this cross-sectional analysis.