01.12.2013 | Ausgabe 4/2013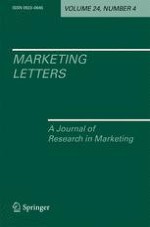 Customization of online advertising: The role of intrusiveness
Zeitschrift:
Autoren:

Jenny van Doorn, Janny C. Hoekstra
Wichtige Hinweise
The authors thank VODW, Leusden, and the Customer Insights Center, Groningen, both in The Netherlands, for supporting this research project. They also gratefully acknowledge the three anonymous ML reviewers and the editor for their valuable comments.
Abstract
This study examines the trade-off between tailoring an ad to an individual consumer's needs and the demand for personal data required to do so, which is inherent in targeted online advertising. Two scenario-based studies in two different industries reveal the extent to which using personal information with greater distinctiveness affects consumers' sense of intrusiveness and purchase intentions. We also manipulate ad fit to each consumer's needs and the presence of a discount to investigate whether feelings of intrusiveness mitigate the potential positive effects of fit and discount. Higher degrees of personalization, such as adding personal identification or transaction information to browsing data, increase feelings of intrusiveness, and negatively affect purchase intentions. These negative effects are not compensated for by offering discounts but can be partly mitigated by presenting an ad with a high fit to consumers' current needs. The positive effect of tailoring the ad is weakened at higher levels of intrusiveness though. Furthermore, high fit may lead to not only higher purchase intentions but also higher perceived intrusiveness levels. Presenting a consumer with a customized ad can thus be a double-edged sword, leading to higher purchase intentions but also greater perceived intrusiveness, which then negatively affects purchase intentions.